Workshops
Check back often, more classes added throughout the year.
Note: these are a one-day workshops so you must bring supplies. See supply list. Or, contact Mary for the list or with questions you may have.
We will take a short break so bring lunch or snacks, if you wish.
Get Ready to Paint - beginners really welcome
This class is an orientation for enthusiastic but novice painters who want to paint with acrylics. Learn the scoop about brushes, supports, mediums, how to prep a canvas and basic color mixing.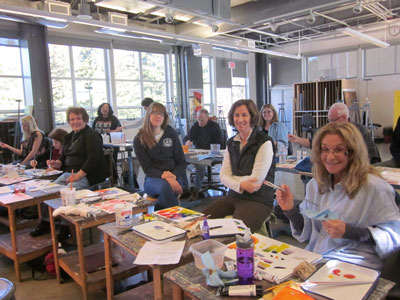 Through presentation and hands-on activities you will "get ready to paint" in a supportive, relaxed setting. Following this materials & terms introduction, you'll be ready to jump into your avorite painting class, be it landscape, still life, abstract, etc.
Artistically Yours
"Every artist dips his brush in his own soul, and paints his own nature into his pictures."
Pablo Picasso
Think of Picasso, Diebenkorn or Brown... it's not their traditional work that comes to mind but rather those paintings created once they discovered/created their unique style.
While there are many skills and techniques to learn along your art journey (composition, value, line etc.) it is also important (and fun!) to look for inner inspiration, to tap into your creativity and find your own voice.
In this workshop we'll start with warm-up exercises and then set you on your personal journey. You'll have a chance to experiment in a supportive environment. You will paint an original work without the aid of set up subject or photographs.
Acrylic paint, hard pastels or crayon is best for this class.
All levels welcome.
Locations
Rm 505, Sir Francis Drake High School
1327 Sir Francis Drake Boulevard, San Anselmo, CA
Register with Tam Community Education. Supply list will be provided upon registration.
Mill Valley, CA
Register with Tam Community Education. Supply list will be provided upon registration.
Fine Art Center 301, College of Marin, Kentfield, CA
Register with College of Marin.